Custom 3D Log Home Plans and Renderings
Custom 3-D log Home plans Canada.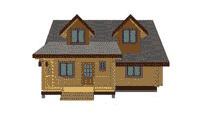 We are very pleased to offer 3D log home plans and renderings as a design option.
Custom 3D plans are created as 3D models for exterior design review and proofing or you can have the complete 3D package which gives you exterior views.
Click here to contact Dirkson Design for a complete list of pricing and options.
Contact our design information department with any questions at design@dirksondesign.com .
For additional information please contact:
Ron Dirkson Design Services
PO BOX 874 STN A,
Nanaimo, BC, Canada, V9R 5N2
Tel: (250) 390-4714