Welcome to our New Log Home Designs / Log Home Plans Newsletter!
Subscribe now for our free newsletter.
*indicates a required field.
October 2006 Newsletter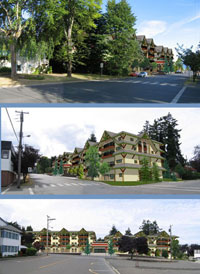 Here is an example of a "3-dimensional" drawing being incorporated into the actual site that it will occupy. If you are planning a commercial project such as a lodge, B&B or condominium development consider the benefits of 3-dimensional design! Our technology not only allows you to "virtually" watch your project come to life as a "3-dimentional object" but visualize your building in the actual setting as it exists.
No worries if you cannot visualize the parking lot or the trees and gardens surrounding your concept. We can add almost anything that is required to help you visualize the overall concept when the dream has become a reality.
Contact us for details!
View our previous articles in our Log Home Plans newsletter archive,